Personal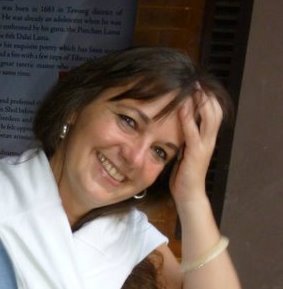 I am born in Bremen, and studied here Mathematics and Physics. Since 20 years I live in Auroville, an international intentional community with spiritual orientation in Southern India.
My own experience with homoeopathy started with my arrival in India. I was fortunate to start off with the very first books of Dr. Sankaran and with my dear friend and colleague Barbara Bremer. Since then I have been researching in many ways: Vipassana Meditation, Ashtanga Yoga, Reiki, Rebirthing, hypnotherapy, transpersonal regression therapy,  the many ways of Dance.
The birth of my daughter Mirrabelle 1995 brought the intensity and pleasure of Motherhood. Later I worked as a part time teacher in experimental school. At the same time and in collaboration with her father I built up an international guesthouse in Auroville – a great learning experience for quite some years. All the while I continued with study and then practice of homoeopathy, which became my main focus in 2001.
For a couple of years now I set up with a few friends meditative activities in the very center of Auroville, the Amphitheater. We like to offer this opportunities to be silently together – in our individualistic mini- society Auroville.
My near daily practice of Ashthanga Yoga gives me a lot of strength and concentration, which I enjoy a lot. Additionally this is such a great resource for my work in the clinic.
By now a good number of professional therapists of different modalities has come together in our ever-growing community. Our project is an "Institute of Integral Health" – for which construction work has started a few months back. We do hope to collaborate even more effectively once the physical structure for this is completed. 20 of us colleagues participated in 2010 in an intensive training in Hypnotherapy in 5 modules. We do now continue to practice, exchange, treat or just experience with one another. I have started teaching the Level 1 course in Hypnotherapy since completing the teacher training in dec 2011
here in Auroville I enjoy the huge spectrum in cultural activities, as well as the choice of many workshops and seminars. In the 70s and 80s this has been a place of "pioneer life out there". Now the project with 2400 inhabitants develops more and more to a place of learning and research – in the largest sense. There are even plans for a "University of Human Unity".
I see myself living here the next years, with quite a few months of travel and work in Germany and Europe. And then lets see how whats up when my daughter – now 20 years young – is flying out to study. I am happy to be open to the world and see where life takes me! offers! .